2017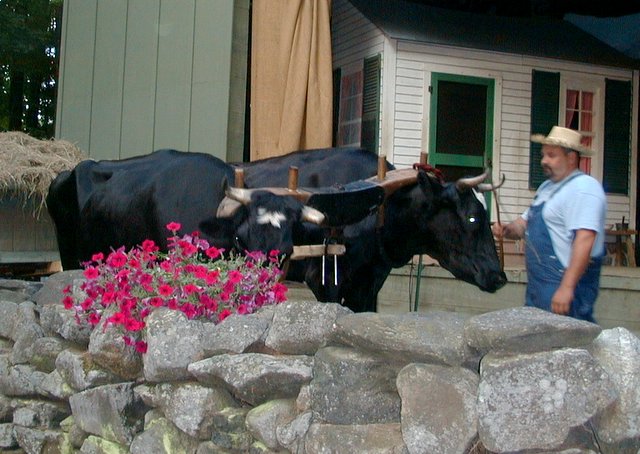 "The Old Homestead" Swanzey's Revival (1939 – 2016)
It has been a part of my entire life, every summer from the time that I could not stay up to the end until the last years when I was usually the last person on the grounds, Denman Thompson's famous play "The Old Homestead" has been performed by local amateur actors on an outdoor stage in the center of Swanzey. Now here we are some 78 years later and few people know how it began or what it was like to be in. So here are my remembrances along with things I have learned along the way of this long great ride at the Potash Bowl.
Denman Thompson
You would think that the author of a play that was set in Swanzey, NH in the 1880's and based on the lives of several actual residents of the town would have been born here. Well not exactly in this case as Denman was born in Girard, PA in 1833. He is a descendant of Benjamin Thompson who was one of the first settlers to Swanzey however his father Rufus Thompson would move his family out to the "western" frontier at the time to a township called Beechwood in western Pennsylvania near Lake Erie. The family would move back to Swanzey when Denman was 14 years old where he attended the Swanzey Academy and worked with his father. At 17 he asked and was reluctantly given permission to seek his fortune, so off to Boston he went. His first job was with Tyron's Circus where he oversaw the banners and poles and rode in the opening pageant. After some practice and instruction, he joined the more than 30 acrobats and tumblers. He got his first speaking part in the play "French Spy" in 1852 and was behind the footlights for the rest of his life.
Josh Whitcomb and The Old Homestead
Denman Thompson became a stock company actor at the Royal Lyceum in Toronto, Canada where he did the smaller parts and danced jigs and reels between acts. This is where he married his wife Maria Bolton in 1860 and their three children were born, Melvenah in 1863, Annie in 1867 and Franklin in 1869. His early acting career did not make him much money. Not able to do the physical part of the acting job anymore he wrote a sketch based on New England characters he knew from Swanzey. At the beginning, no more than a 25 minute long sketch "Joshua Whitcomb" was first performed at Harry Martin's Varieties in Pittsburg in February 1875. That 25-minute sketch would grow to be a three-act play. "The Old Homestead" billed as a sequel to "Joshua Whitcomb" debuted in April 1886 at the Boston Theater. The latter play was a collaboration between Denman Thompson and George Ryer where it was said that George provided the structure of the play and Denman provided the dialog. "The Old Homestead" would make Denman a wealthy man. The first week's receipts of the play in Boston were reported to be $11,279.25. Denman would go on for the rest of his life playing "Uncle Josh", but more than that he was "Uncle Josh". In an interview when he was 77 years old Denman guessed he had "played Uncle Josh nearly 15,000 times" and had no intention of retiring. At times, there was more than one theater troupe traveling across the country performing "The Old Homestead". Towards the end of his life Denman would reprise a portion of his sketch from "Joshua Whitcomb" to plat at vaudeville theater shows while his theater troupe performed "The Old Homestead". Denman Thompson passed away on April 14, 1911 at his home in West Swanzey.
The Revival
"The Old homestead" had not previously been performed in Swanzey only because there was no theater big enough to hold it. In 1933 three acts of the play were performed at Keene City Hall part of the celebration of the 200th Anniversary of the Town of Swanzey. In 1936 the newly formed North Swanzey Community Association performed a sketch from "The Old Homestead" as part of "The Historic Pageant of Swanzey" written by one of its members Helen Ward Adams. The Association was raising money to pay off its mortgage, it raised $340.70 from this venture. Helen Adams credits Leland Bogue from North Swanzey for the idea of reviving the play. They knew it would be a large undertaking so they proposed the idea to the congregation at the 1st Congregational Church in Swanzey Center and the wheels started in motion. Willard Adams, a trustee of the Carpenter Home at the time, recognized the pasture area on the property as a good location for the stage. So they began the tasks of building a stage, seats, finding properties, building the sets, advertising, gathering costumes and of course rehearsing. The play was set for the last weekend in July 1939. They had built seats to hold 1,000 people in the new Potash Bowl. As the date got closer they had sold out all the seats and they estimated that there were 2,000 to 2,500 in attendance on Friday and Saturday night. It was then that they thought why not make this an annual event. That idea started in 1938 would run for 75 revivals and would see generations of families working to keep it going. The Old Homestead Association was started in 1942 and grew to include almost all of the churches and community associations in the town. Then one by one the associations dropped off the board and the audiences were getting smaller. An arson fire that destroyed the stage and most all of the scenery brought a renewed interest in the play in 1978. But once again as we moved into the 2000's the future was not looking good.
Memories
My first memories are of only being able to stay through the 1st act because it was past my bedtime. While I had helped for years before I was not allowed to be on the program until 1970. That year I made popcorn in the refreshment stand along with moving properties around between acts. My first time on stage was as the trumpet player in the Salvation Army Band in the 3rd act. I would not take a speaking part until after the fire in 1978. I took the part of "Eb Ganzey" in 1979 which I would do for 24 years. Then somewhere in that time as I got older I moved to Seth Perkins and then finally to Joshua Whitcomb in 2011.
The main characters actors in the play have seemed to come back year after year. For that matter, there has only been 5 directors in the 75 revivals of the play and I have worked under all but the first one Sprague W. Drenan. There have been only 8 actors to play Uncle Josh and I may be wrong on this but I believe only 5 to play Aunt Matilda. There have been multiple father/sons or mother/daughters to play the same part. The youngest was definitely Rachel Reekie as she was on stage as a baby in the 4th act. With that said there were a lot of years when I or many of the others would not have to even pick up a script to start rehearsals. For me that took about three years in the same part before I felt comfortable. Well comfortable or not I was not immune from messing up, especially in my last years as Uncle Josh. Mr. E had always taught us that if we messed up a line just carry on don't let the audience know. Well that was put to the test in the 1st act when I gave Happy Jack his 5 dollar note well before I should have. I think I cut out a page or more of his lines. Well Rob (Happy Jack) wanted to say his lines so he leads me back to where we had gone astray. Well that worked with only one problem, I couldn't give him 5 more dollars. We made it through and only those very familiar with the play noticed. Along with one Aunt Matilda who had to rush back on stage to give me a sandwich on stage. Our joking in rehearsals was constant just ask anyone from the fourth act about "I snum". But our joking got to be our release and out of two dress rehearsals one would be joke night and the other serious. We saw such things as smoke in the second act when they sing the Fire Song, vodka in the well water, a centerfold in the wood box or one time the wood box was screwed shut. Ted Garland came out as the energizer bunny playing the base drum in the Salvation Army one time. How about a real girl in a white leotard playing the New York lady or better yet Ed Dunham in swim trunks. While I can neither confirm nor deny who did it, one of the funniest things happened to Pat McClure when she played Aunt Matilda. In the first act, she comes out on stage to pick over her berries. She sits down and with the berry pail on her lap and starts to pretend she is picking off the stems. Well, someone had put this big and I mean big beetle in the pail. Now it should be known that in the interests of the 1880's play if someone wore glasses they would not at the play or would have old style glasses usually without glass. In other words, she could not see what she was putting her hands into. Well it went on for a while just long enough for Gus Williams (Cy Prime) to get to center stage. Pat screamed and sent the pail flying and left Gus standing there wondering what happened. Of course, Gus got blamed but he was innocent. The cast cannot forget when Donna Bruise created the Denny Awards, a spoof on the Emmy's or Oscar's.
Future
As I write this the future is still unknown. When the association was formed its mission was "to provide entertainment for the people of Swanzey and the surrounding territory". We will continue to do that with the summer concert series at the Potash Bowl. And who knows Uncle Josh may just show up again in July.
Your President and Uncle Josh,
Lee Dunham
---
---
Here are the concert listings for this years "Bands at the Bowl" event:
Friday, June 23, 2017 Winchester Community Band
Friday, June 30, 2017 Cindy Duchin and Yankee Swap
Friday, July 7, 2017 Reunion Hill Band
Friday, July 14, 2017 Nelson Town Band
Friday, July 21, 2017 Monument Square Brass
Friday, July 28, 2017 Tom Foolery Band
FREE CONCERT
7:00 pm to 8:30 pm
Brownie Sundaes for sale
---
---
Follow The Old Homestead on Facebook. Become a fan!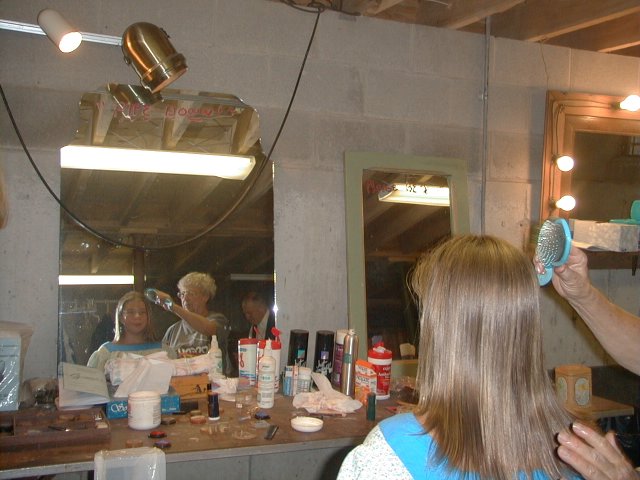 This Year at the Potash Bowl
June 23, 2017
Winchester Community Band
June 30, 2017
Cindy Duchin and Yanke Swap
July 7, 2017
Reunion Hill Band
July 14, 2017
Nelson Town Band
July 21, 2017
Monument Square Brass
July 28, 2017
Tom Foolery Band
All concerts are free to the public
Refreshments available
Concerts time 7:00 pm to 8:30 pm
Rain Date
July 17, 2016
Old Home Day
July 15, 2017
Events all around the center of town